Remembering Robert Wadmore (Rob) Linn
24 February 1953-4 March 2022
A resident of Cherry Gardens for 40 years.

Robert Wadmore Linn (known as Rob) was born to dermatologist Dr Howard Linn and his wife, Helen nee Dunn.  He attended Mitcham Primary school before going on to complete his secondary studies at Prince Alfred College. Attending the college gave him many opportunities; including representing the intercollegiate tennis team from 1970-71 and becoming a school prefect in 1971. Whilst at PAC, Rob received the Bruce Hamilton Prize for English and Essays in 1970.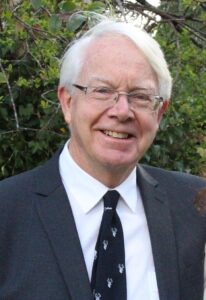 Rob went on to study Arts at the University of Adelaide and received a Bachelor of Arts (Honours) Degree in 1977, followed by a Master of Arts in History in 1984.
Rob married Jane (nee Russell) at St John's Anglican Church in Coromandel Valley in 1982. They purchased a property in Cherry Gardens and moved in immediately after they were married. Rob and Jane made this their family home for the past 40 years.
After teaching Australian history at Adelaide University for a number of years, and with encouragement from his father in law Frank, Rob established Historical Consultants Pty Ltd in partnership with his wife, Jane in 1984.  He wrote over 50 historically related books, as well as many journal articles. He also completed more than five hundred oral history interviews Australia wide. Many of these interviews were related to the histories that he had been commissioned to write.
Rob won many literary awards.  In 2011, his history of the University of Adelaide North Terrace Campus won the Mander Jones Award of the Australian Society of Archivists.  He won the Australian Water Association Literary Award 2004 for "Murray Water is Thicker than Blood: the stories of the families who made the River Murray's locks and barrages" and the National Book Council's inaugural Lysbeth Cohen Award for biography for his "Nature's Pilgrim" at the National Council's 1990 Banjo awards.  His 'Bungaree: Land, stock and people" won the Genealogy Society Family History of the Year award in 1993.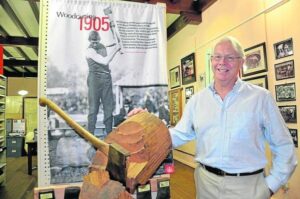 Rob was an interviewer for the National Library of Australia's oral history program and a consultant to ABC Radio National's Social History Unit,  the J.D Somerville Oral History Collection at the State Library of South Australia, the Keith Murdoch Sound Archive, and the Australian War Memorial.  Rob undertook the largest oral history project of its type in the world for the Australian wine industry – 213 hours.
Rob's oral histories were always well researched, and his interviewing style was warm and friendly. He always managed to gently guide the interviewee through the interview giving them the space they needed to share their story.  Many of his interviews are available on-line. His genuine interest in people from all walks of life and the stories they told was one of the key drivers behind his success as an oral historian.
Rob was a councillor with the Royal Agricultural and Horticultural Society for more than 30 years. Working behind the scenes at the Woodcutting as well as in the Taste SA pavilion and the Old Ram shed.
Rob's life reflected his strong Christian faith. As a young child through to his teens, Rob attended what was then Malvern Methodist Church with his family.  Through to his early 20's Rob worshipped at Westbourne Park Uniting Church assisting with the music and attending youth group, then helped run the evening Youth services at Westbourne Park and mentored many young people in the Youth Group.  He was heavily involved in the music at the church throughout this time, playing the guitar and singing.
During his university days, Rob worked part-time at Mitcham records.  He spent most of his earnings on new records and always maintained an exceptional record collection.  He was a guitarist and vocalist in a number of bands.
After their marriage in 1982, he and Jane bought their property in Cherry Gardens and immediately attended Cherry Gardens Uniting Church where Rev. Arthur Jackson was the minister.  Rob was appointed an elder at the church and led the first part of the worship, leading the singing and playing his guitar, most Sundays. At that time too, Rob and Jane began a youth group for all the local young people to come together each Friday evening in the Cherry Gardens Memorial Hall.  A little later Rob and Jane began a Sunday school at the church for the local families.
Over the next few years their 4 children were born and all attended Cherry Church where John Octoman was the pastor.  One of the highlights of the year was the annual Carol Singing around the district in a small minibus.  It was a wonderful way to connect with the locals.
Later, Rob and Jane and family began worshipping with the Ironbank church congregation  but were still involved in combined activities with Cherry Church.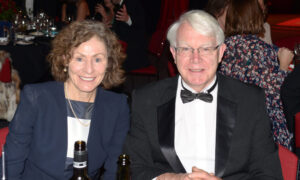 As the family grew up and the children needed to be involved in a larger church with more children their age, Rob and Jane and family became involved with Coromandel Baptist church on Ackland Hill Road.  During this time, Rob organised families from the Baptist Church to hold monthly Family nights at the Ironbank Church involving a shared meal and worship time.  Many local folk from Ironbank joined in these occasions. These were wonderful times, where all ages met together.  Rob became a church deacon, he regularly led worship and helped teach the Sunday school children.
In 2018, Rob and Jane resumed worshipping at Cherry Church, after their children had completed their studies, married and left home.  Rob became part of the church leadership and once again regularly helped in worship leading.  Over the past couple of years, Rob was the Chairman of the Cherry Church Congregation.  He regularly contributed articles in the Cherry Chatter.  Rob and family put together a Christmas evening of carols and readings in the garden at Cherry Church only last December.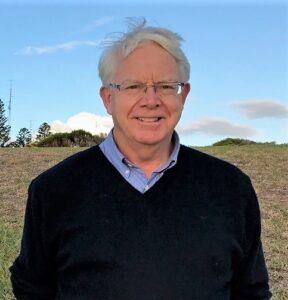 Rob has left behind an amazing legacy recording and preserving Australian history. Regardless of his many achievements, Rob's greatest love and joy was spending time with his family and many friends.  Rob is survived by his wife Jane and their children and families Josephine & Scott; Matthew & Erin , Sarah & Rob; and Benjamin and Kat.  Grandfather to Lilly, Mary, Anne, Josh; Edward; Henry, Tom; Jack
Described as a kind gentle man with a great passion for history, he will be deeply missed. Our thoughts are with his family and friends.