Cherry Gardens Uniting Church is only 15 minutes drive from Blackwood via Main Road or Acklands Hill Road and 5 to 10 minutes from Aberfoyle Hub and Flagstaff Hill via Main Road or Oakridge Road. See the maps under the contact page on this site. Note that the speed limit on Cherry Gardens Road has changed!
A friendly family group welcomes you to join us for worship and to stay for morning tea.  The church is  in a beautiful rural setting, surrounded on three sides by farmland.
Cherry Church is the oldest former Wesleyan Methodist chapel still used for worship within the Uniting Church.  We celebrated our 170th anniversary during March 2019. View two videos that show the interior and exterior including the gravestones – http://youtu.be/mOpJYAK12So    and http://youtu.be/noppnCfvT4E
Country weddings, baptisms, and funerals are also celebrated at Cherry Gardens Uniting Church.  A variety of groups use the Church for retreats. Contact the Secretary for information on seating numbers.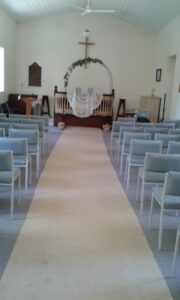 Cherry Gardens Uniting Church is open for worship each Sunday at 9.30 AM
To our dear friends of Cherry Gardens Church:
There has been some relaxing of Covid 19 restrictions, so the Leadership Team has prepared the required documentation and put in place additional cleaning and hygiene measures using the 1 square metre distancing requirement from Government. We limit the number of people on any Sunday who use the lectern and microphone. We very happy seeing our friends in live worship.  We are able to use the church and also the room next door where we have sound and projection on a large screen so that people in this room can be part of the service too.
Third Quarter Roster 2022
This link is to the 2023 last quarter roster that our Secretary, Dianne Dyson has prepared for us.  We are grateful that so many people are prepared to support us at Cherry Church: Link to the Cherry Gardens Uniting Cherry Roster Last quarter 2023 Roster Oct, Nov , Dec 2023
Offering. The church still needs to meet its obligations re insurance, regular commitments etc. If are unable to attend worship, we encourage you to set aside your weekly offering. A cheque can be posted to P.O. Box 430 Blackwood, or direct debit is available:
BSB 105 078 Account 055278340.  The Account title is Cherry Gardens Uniting Church Savings Account. Please reference as OFFERING.
Or please contribute to our building fund for the major repairs and repainting of the church interior: Uniting Church – Cherry Gardens Building Fund, BSB 105-078, Account# 058647640, BankSA
Our Treasurer, Ruth, doesn't need to know who has transferred money unless you require notification of receipt.
Please contact us if you have any concerns at all.
Blessings, Peace and Hope to you all and 'May the God of hope fill you with all joy and peace in believing, so that by the power of the Holy Spirit you may abound in hope.' Romans 15:13
The Leadership Team
(Jane Linn, John Howland, Stephanie Dube, Ruth Work and Dianne Dyson)
Our church and meeting room are air-conditioned!  Lovely and warm this winter!
Our location is in a peaceful setting and provides the right atmosphere for retreats. Several church and other organisations regularly use the facilities, particularly the meeting room which is air-conditioned and carpeted. There is a good kitchen with a refrigerator and a stove for reheating food. With an abundance of natural light, there also is a good-sized deck outside with lovely rural views. There is a large video screen and a high definition projector that can operate from cable or WIFI. Please contact the secretary for more information. .
Thanks to the Cherry Gardens Garden Club and dedicated volunteers from our congregation, we have a developing garden with beautiful heritage roses and a growing selection of suitable plantings.
See our Facebook page: https://www.facebook.com/CherryGardensUnitingChurch
Use the Events link on the menu bar to see a number of interesting events coming over the next few months 
Cherry Church is part of the Uniting Church; use this link to see the structure of the Uniting Church within South Australia: https://sa.uca.org.au/pres-synod-meetings/introduction-to-governance-in-the-uniting-church/sagovstructure
CHERRY CHURCH GIVING
We believe that God in response to his incredible grace, calls us to give him our first and our best – including our finances. Through tithes and offerings and other gifts, we are able to bless our church community but more importantly make a difference in the community that exists beyond us.
We make regular donations to many organisations because so many of the congregation are so generous with their giving.
​
We are so thankful to God for the wonderful generosity from people at Cherry Gardens Uniting Church.
SUNDAY OFFERING
Tithes and offerings are collected at each of our Sunday worship services.​
DIRECT DEPOSIT
Direct deposits can be made to:
Cherry Gardens Uniting Church Savings Account
BSB: 105 078
​Account #: 055278340
 Or
Uniting Church – Cherry Gardens Building Fund,